We convert historic buildings into modern, timeless facilities
Our commitment to building refurbishment has gone from strength to strength in the last few years, driven by recent trends in the real estate sector. Nevertheless, we boast a much more encompassing track record in this area, prior to this movement.
Our first challenge dates back to the 1990s, when we oversaw the reconstruction of the old Chiado Shopping Centre. The works then undertaken involved the rebuilding of the structure and façade of the iconic Lisbon building, which transformed it into a modern shopping centre in the charming Chiado neighbourhood.
Since then, we have worked on many iconic projects across the country and have been actively engaged in the refurbishment efforts which are driving urban renewal and instilling new life into the historic centres of Lisbon and Porto. Despite our primary focus on the residential segment, Engexpor's refurbishment projects also include hotels, office buildings and religious institution facilities.
Whether we seek to restore historic buildings, in order to allow for new uses while preserving their charm and authenticity, or modernise facilities to increase comfort and enhance user experience, our approach hinges on an integrated view of all aspects involved. Only by adopting this approach can we help leading companies renovate and refurbish buildings of great merit.
Our Achievements in Numbers
Hospitality & Healthcare
Tivoli Carvoeiro Algarve Resort
Refurbishment results in a luxury hotel and resort
The Tivoli Carvoeiro Algarve Resort, with a stunning location by the cliffs of Vale Covo and breathtaking views over the Atlantic, has reopened after being fully refurbished in 2017.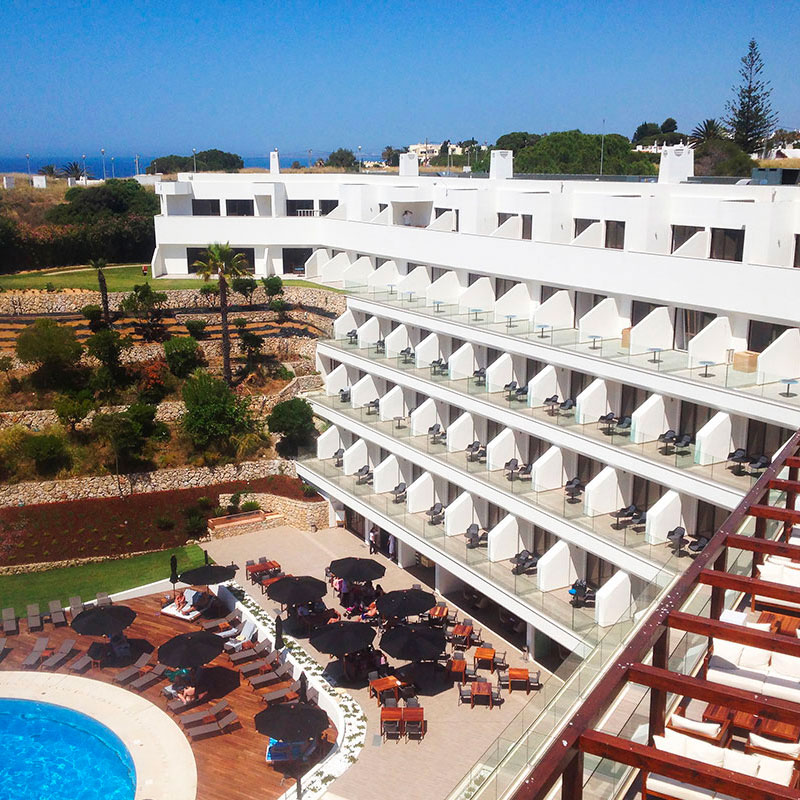 Vidago Palace Hotel
Luxury hotel preserves the palace's soul with centuries of tradition
The Vidago Palace is a luxury hotel built in a century-old palace surrounded by mountains and forest, part of the Leading Hotels of the World network.
Designed in the last century during the reign of Charles I, the stunning Vidago Palace Hotel was first inaugurated in 1910, and the combination of its glamour with thermal treatments and a golf course placed it among the most prestigious of European vacations during World War 2. In the 50s and 60s, famous aristocratic festivities raised the hotel's profile further.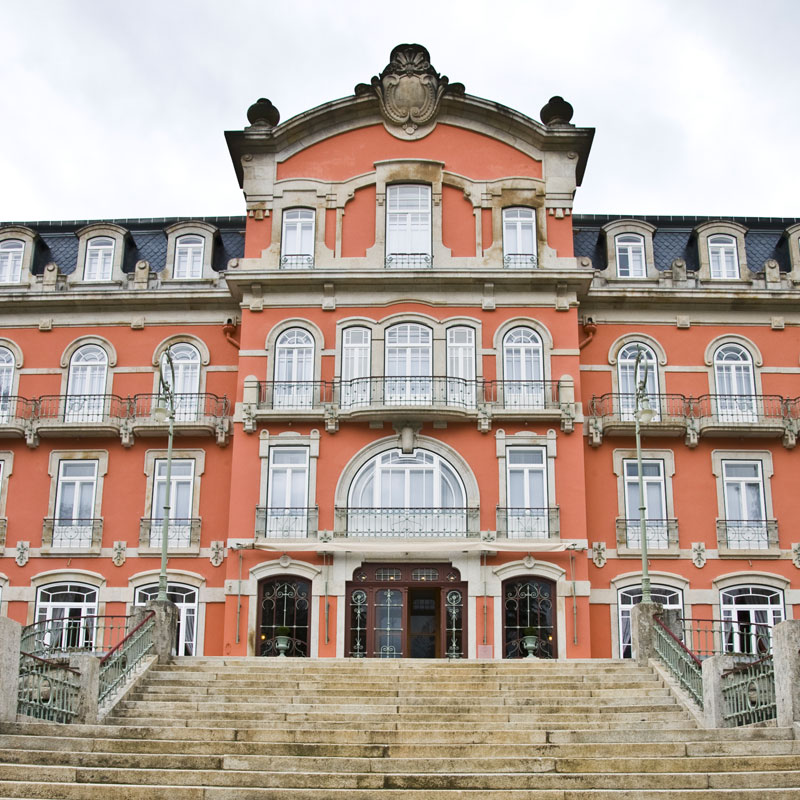 Neya Lisboa Hotel
Globally recognized energy efficiency and sustainability
A sustainable urban hotel located in the heart of Lisbon, NEYA offers contemporary architecture, the product of rehabilitating an old building using predominantly Portuguese materials, including furniture made from recycled raw materials.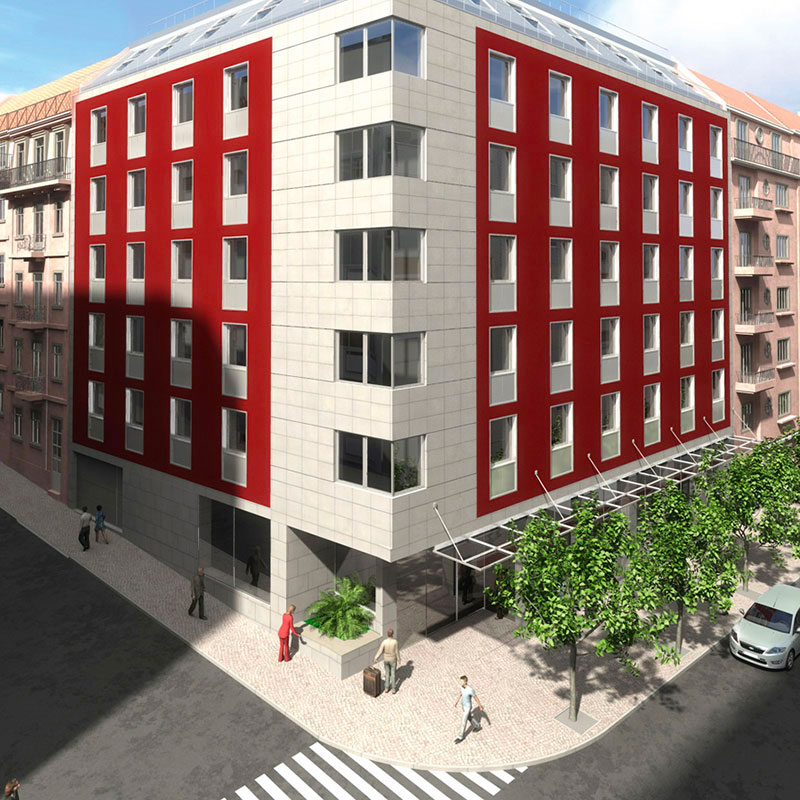 Residential
Aliados 107
The irresistible charm of the past combined with the sophistication of the present
Situated in the heart of the centennial Avenida dos Aliados, the noblest and most majestic avenue in Porto, is Aliados 107. A building of great historical importance, designed by architects Rogério de Azevedo and Baltazar de Castro, it was built in 1930 to house the old "O Comércio do Porto" newspaper.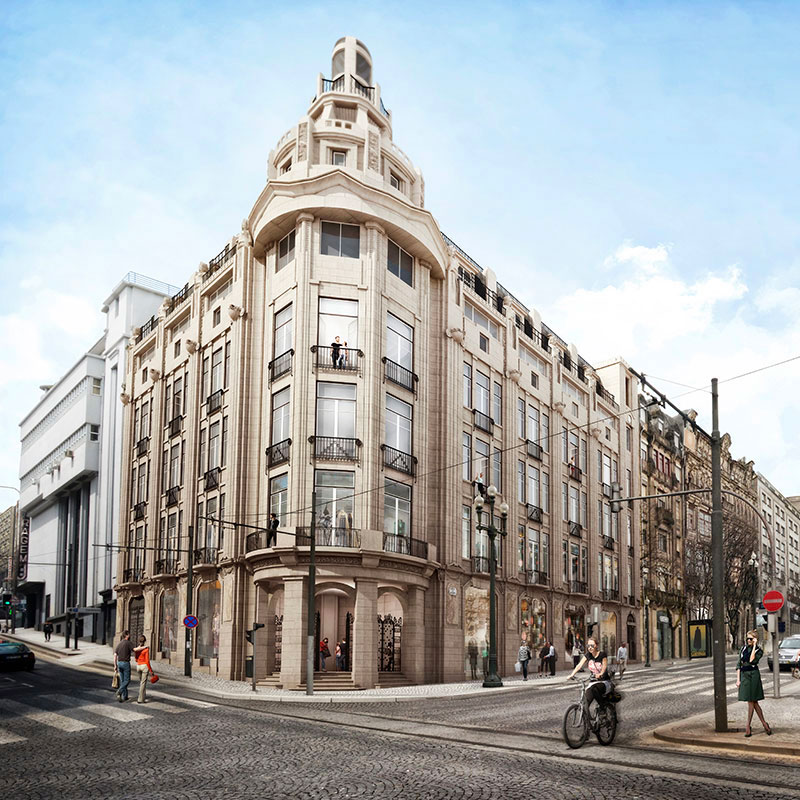 266 Liberdade
Recovering the history and culture of a Lisbon symbol
Historical building, winner of the Valmor Prize in the year of its inauguration. It was erected in the 1940s to host the Diário de Notícias newspaper.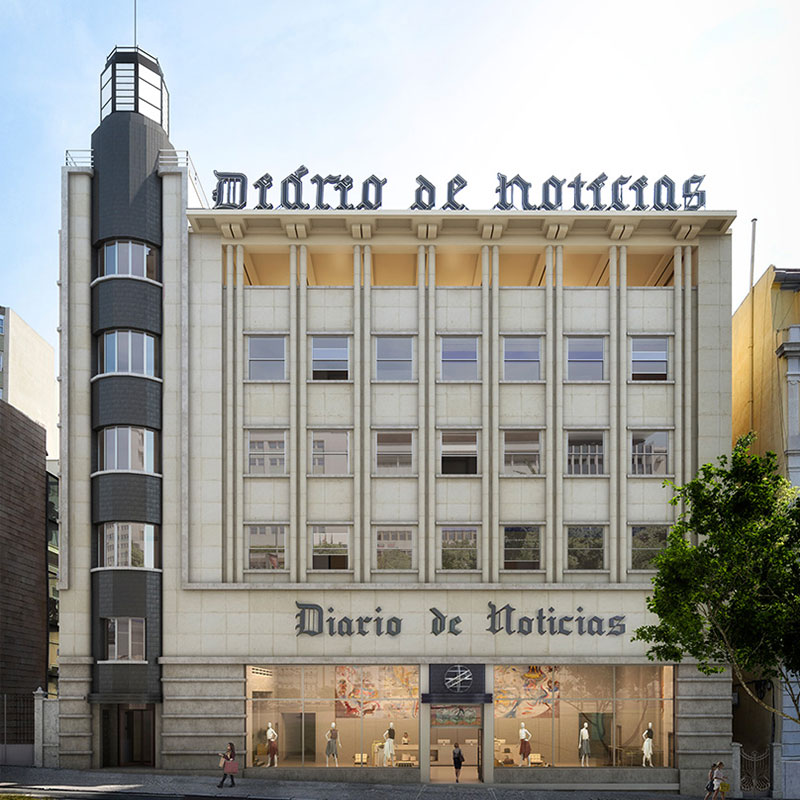 Santa Clara
A hotel and housing project that renews 200 years of history
An eighteenth-century palace in one of Lisbon's most traditional neighborhoods will be transformed into a hotel, housing and commercial development. Santa Clara will feature a total of 100 apartments, measuring between 40 and 300 m², an extensive, 100% permeable garden, swimming pool and lounge area.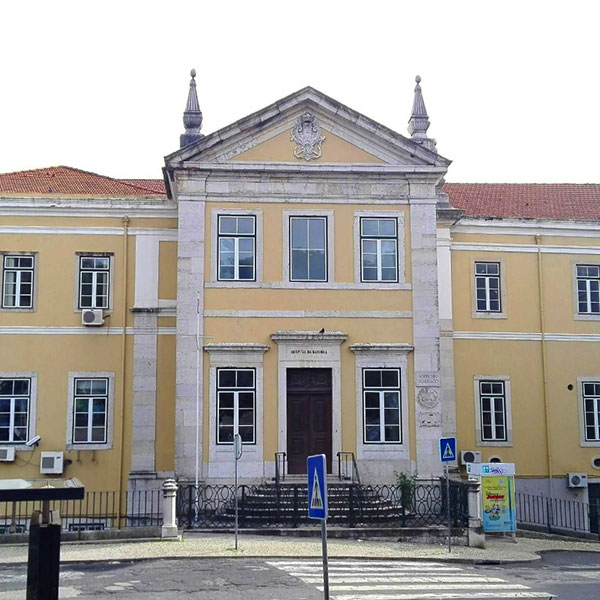 Augusta Arch
An exclusive building in an imposing Lisbon location
In Lisbon's most upmarket, historic and touristic center, stands a building on eighteenth century foundations that used to be a bank's vault. Today it is reborn completely renovated with 28 unique apartments that afford all manner of comforts for modern times.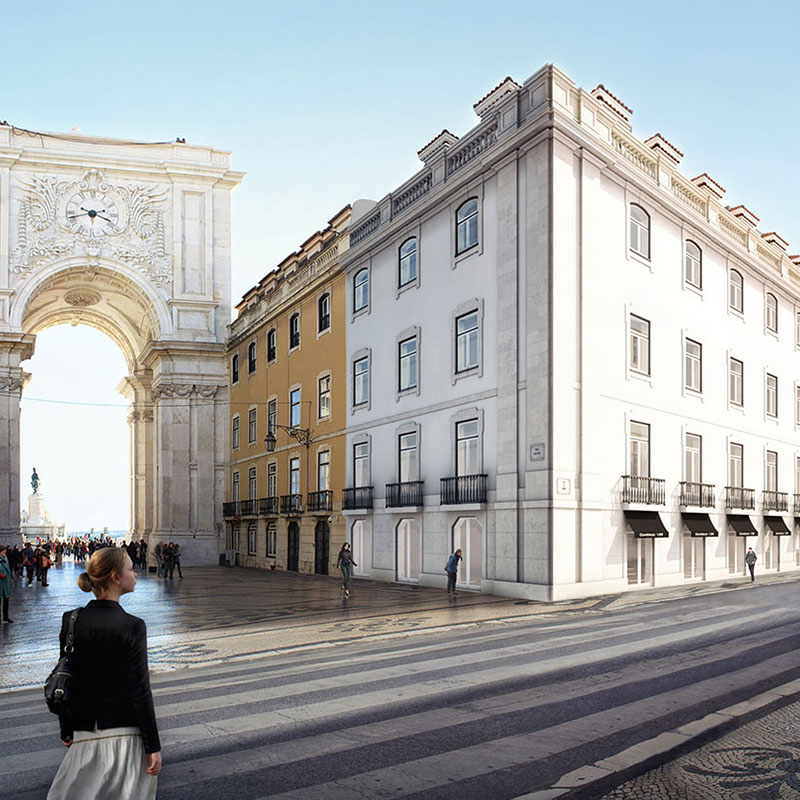 Liberdade 12
True luxury in the heart of Lisbon
In Lisbon's most sophisticated setting, Avenida da Liberdade, this exclusive residential building offers the perfect blend of the city's vibrant atmosphere and the calm of its spacious, welcoming apartments, as well as vast private gardens, a rarity in central Lisbon.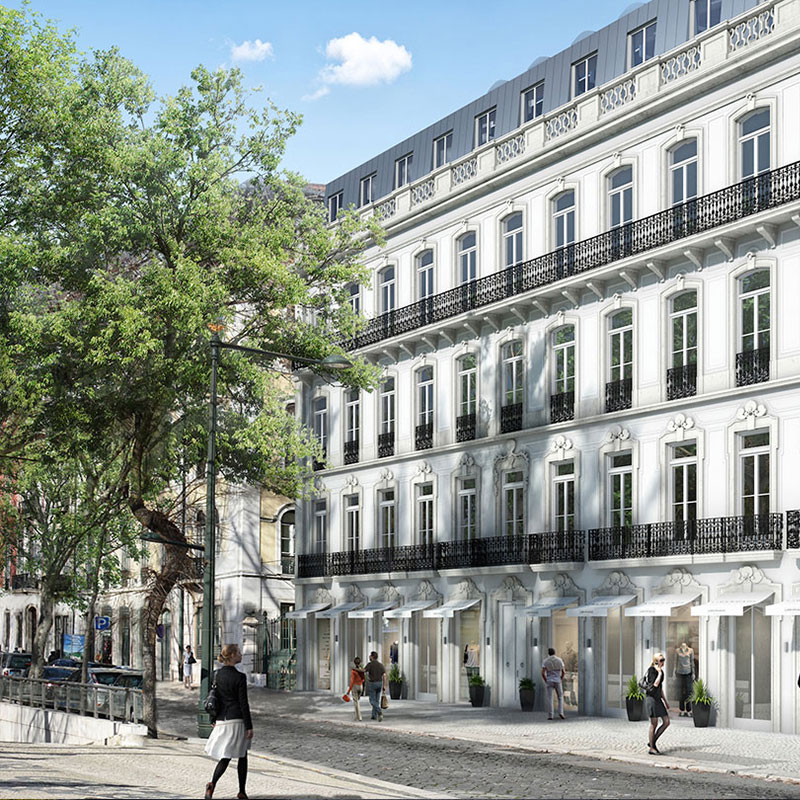 Orpheu XI
A distinct address at an utmost unique place
In the heart of Chiado, the Orpheu XI is a typical Pombaline building, where a rigorous renovation valued and preserved the historical façade and relevant elements inside.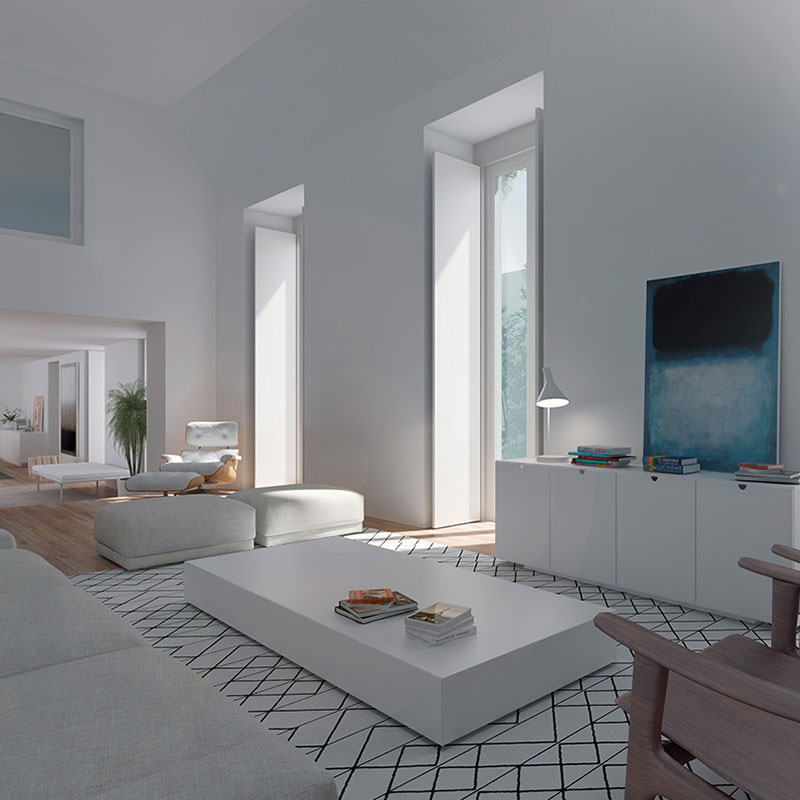 Santa Helena
Contemporary timeless beauty in a secular palace
Located inside the Fernandina wall, in Alfama, in an elevated position facing the river and the valley of São Miguel, the Palace Santa Helena is being renovated to welcome 20 unique apartment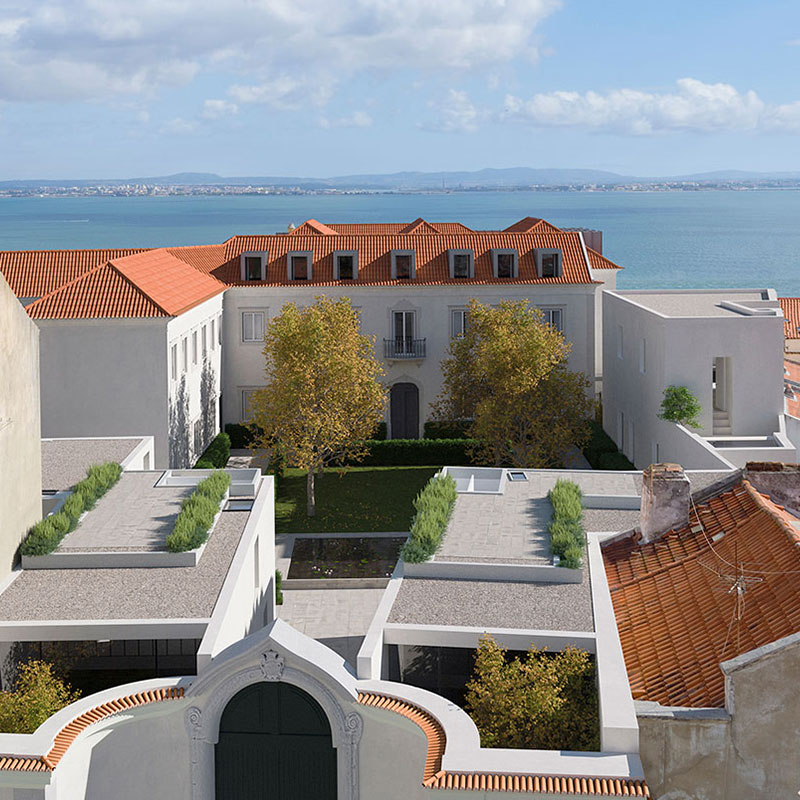 The Boulevard
Combining tradition and innovation to create exclusive apartments
With more than a century of history and completely renovated, The Boulevard – Lisbon Apartments combines the refinement and charm of the past with the sophistication and comfort of modern times.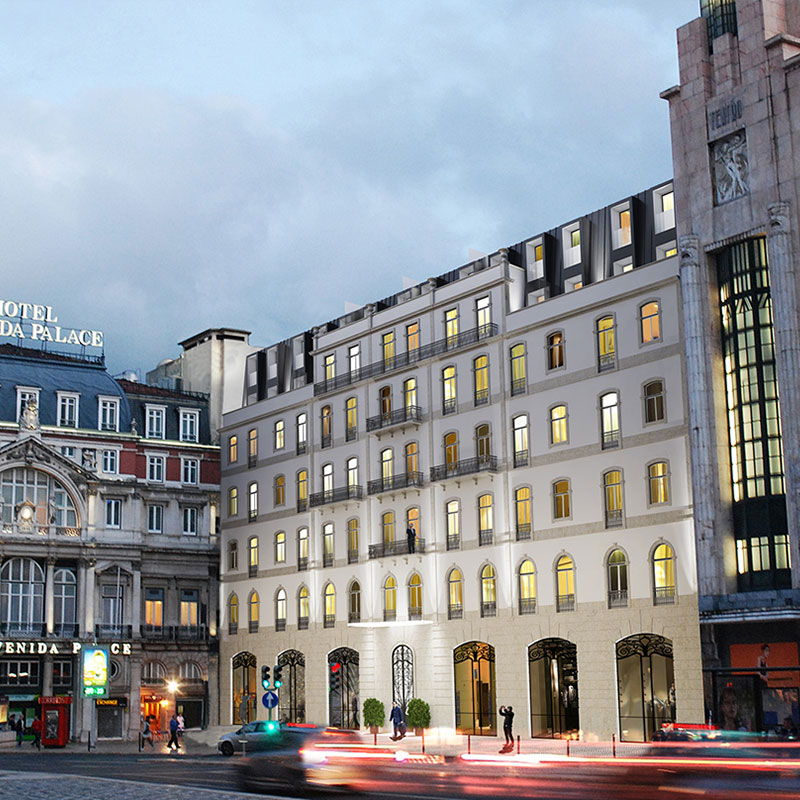 Liberdade 203
Designed with excellence to preserve the refinement of the past
At the junction of Avenida da Liberdade and Rua Rosa Araújo lay the buildings that gave rise to Liberdade 203, excellent examples of the post-Pombaline style that left its mark on Lisbon's urban landscape. Equipped with three independent entrances for residents to use, Liberdade 203 employs a harmonious architectural language common to the whole.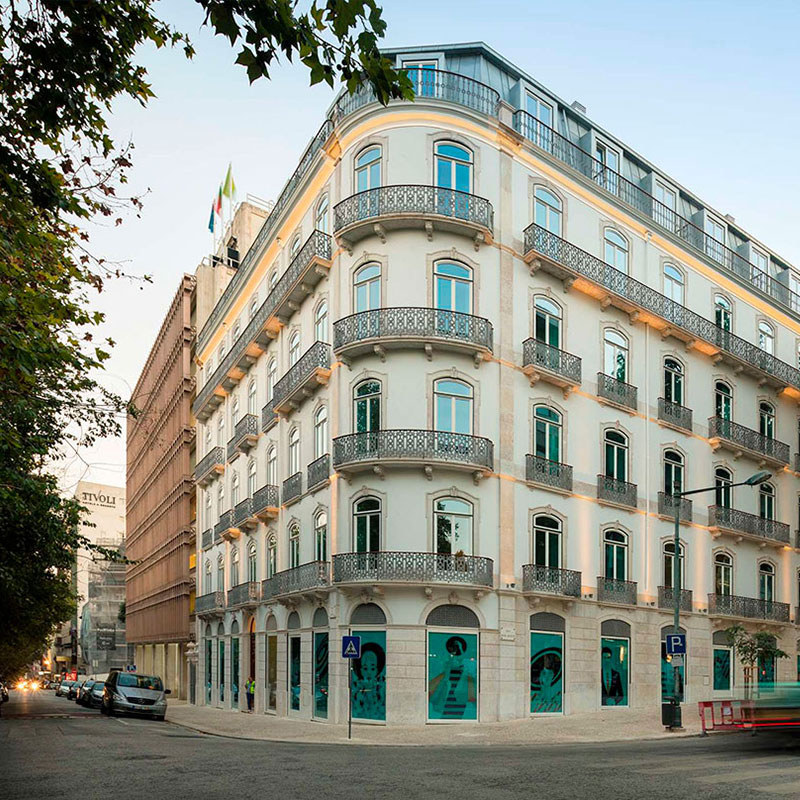 Liberdade 40
Cosmopolitan discretion with details of exceptionalism
The deep renovation of Liberdade 40, a building from the 1980s in the middle of Avenida da Liberdade, gave birth to 16 exclusive apartments in a modern and minimalist style, where contemporary lines and distinctive details stand out.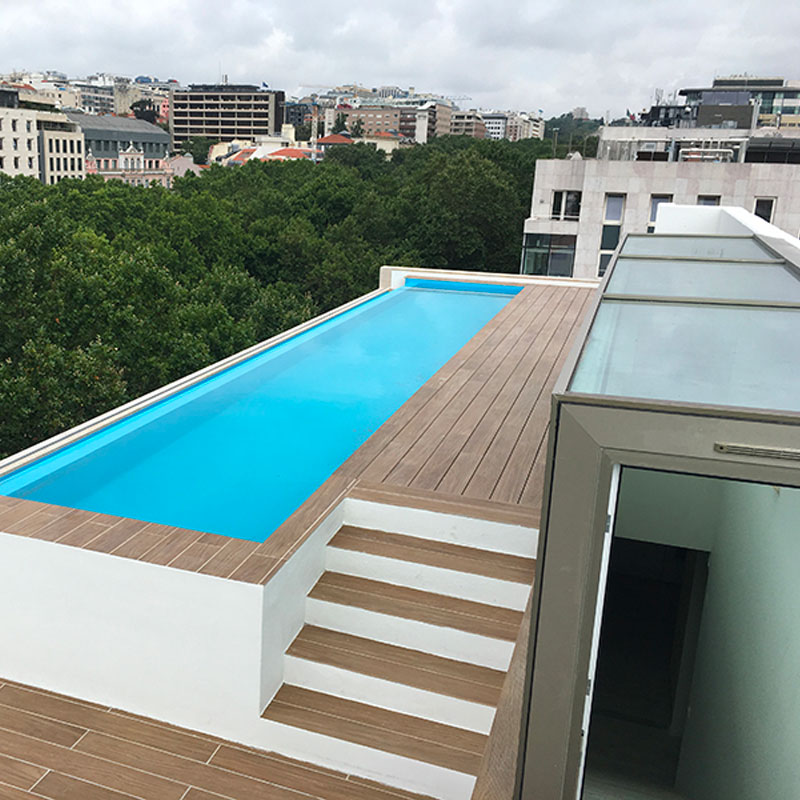 Jardim da Glória
A development that restores 5 buildings in a traditional Lisbon neighborhood
Jardim da Glória is one of the most recent contributions to urban renewal in Lisbon's historic areas. Located in Graça, it will renovate 5 buildings that house 40 apartments and a villa, where modernity recaptures the charm of this neighborhood's typical traditions, built on the city's highest hilltop.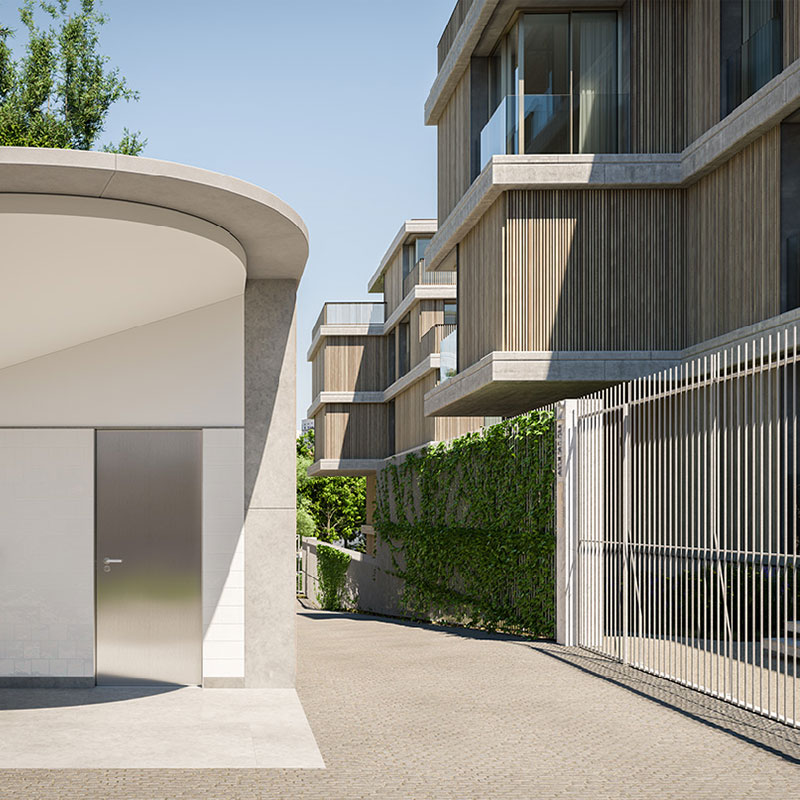 EXCLUXIVE Rosa Araújo 12
Top-class address in the luxury residential market
Between two charming hotels and just a few meters from Avenida da Liberdade, the Rosa Araújo 12 building promises to become a unique reference in the luxury residential market and one of the finest addresses in Lisbon after the upcoming renovation of the property.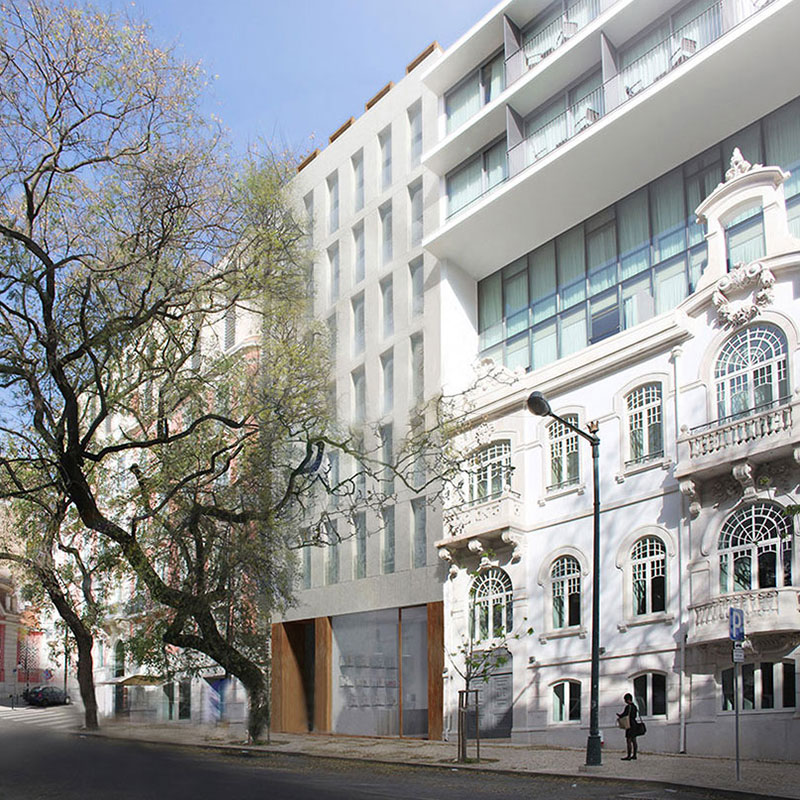 Boavista 69
Building restoration preserves its identity and historical value
Work designed to recover and remodel one of the most imposing and elegant buildings on Rua da Boavista, included in the Municipal Inventory of Heritage and whose construction date is estimated to be between the last decade of the 19th century and the first of the 20th century.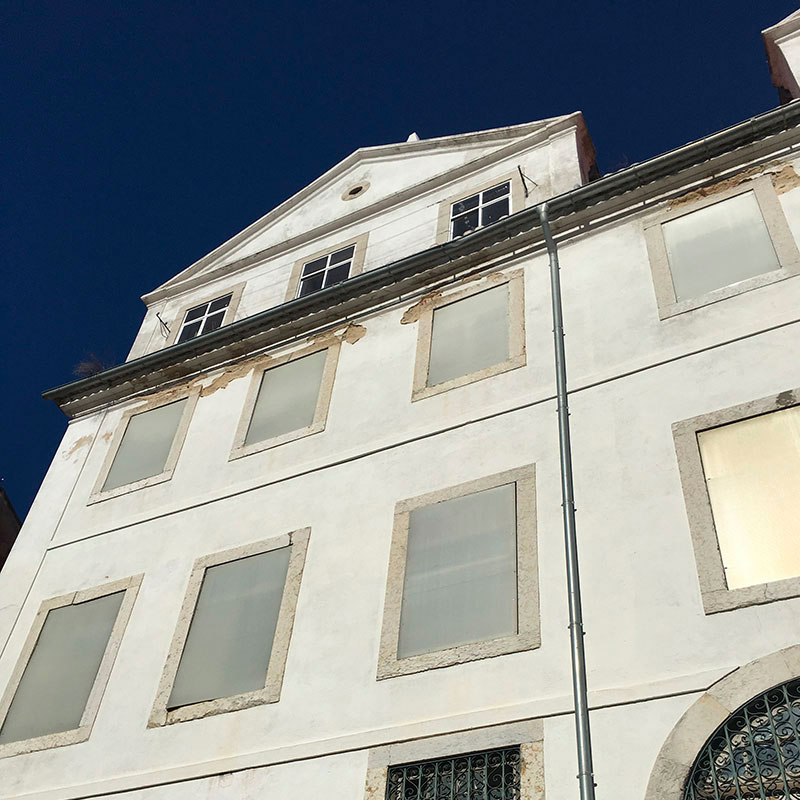 Culture & Heritage
Henrique Mendonça Palace
Preserving the historical heritage and a national monument's splendor
The Henrique Mendonça Palace, located on Rua Marquês da Fronteira, has been restored to house the global Imamat Ismaili (Ismaili community) headquarters..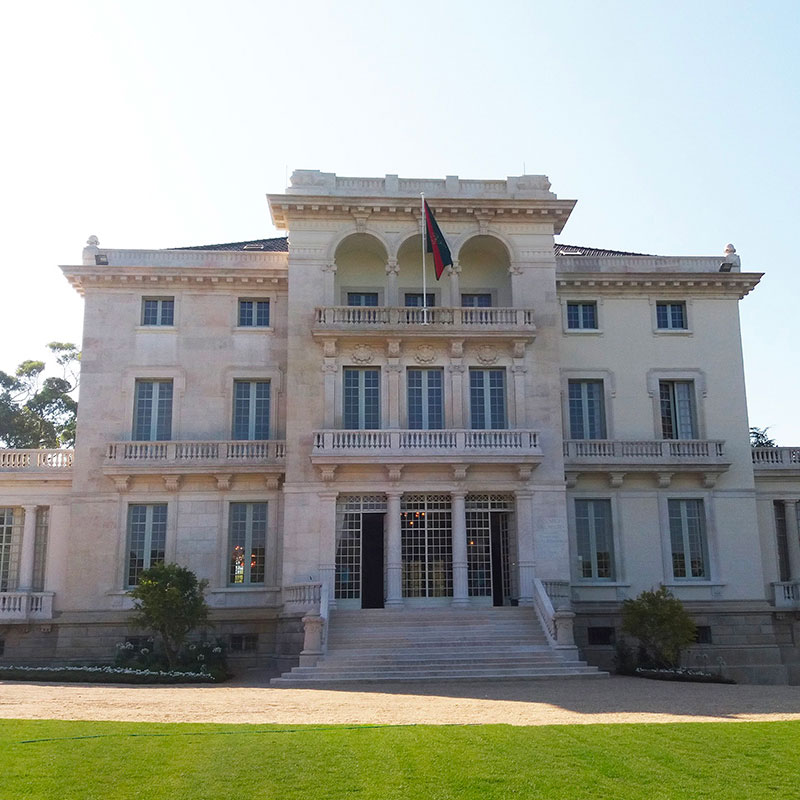 Biblioteca Altino Arantes
Refurbishment of an old mansion into a new Cultural Centre
The Altino Arantes library in the center of Ribeirão Preto will be rehabilitated and expanded to become a cultural center.
The space will include cafeteria, amphitheater, kids space, among other facilities.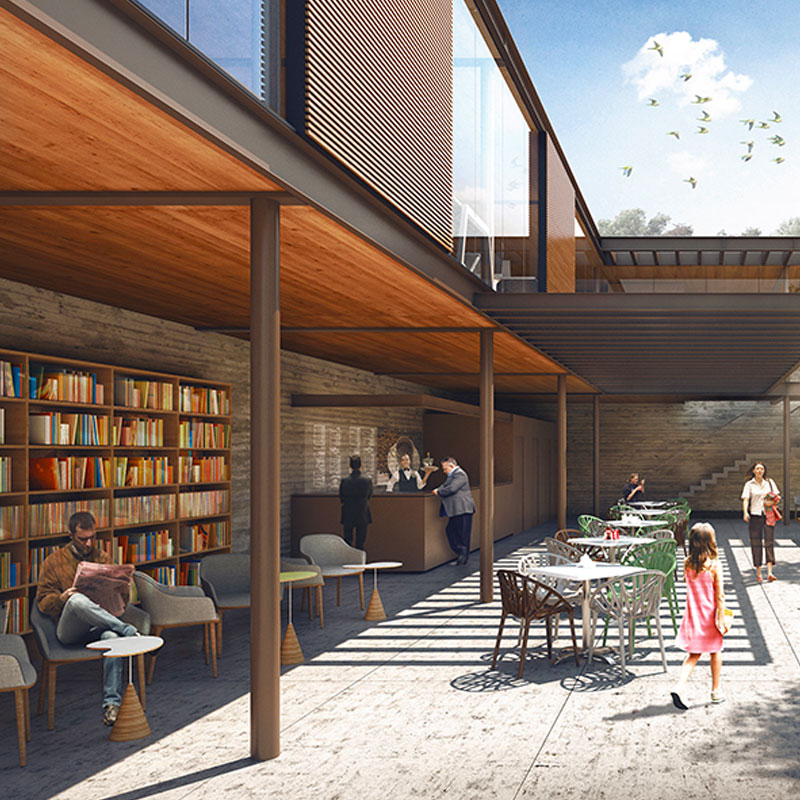 Shopping Centers
Armazéns do Chiado Shopping Center
Tastefully reconstructing in Lisbon's prime location
The unmistakable work of the architect Siza Vieira gave life to this project to reconstruct the former Grandes Armazéns do Chiado Shopping Center, destroyed in the fire of 1988. A concept that prioritizes the need to maintain balance between history and reconstruction, between architecture and its urban use, creating new synergies in Chiado and Baixa Lisboeta.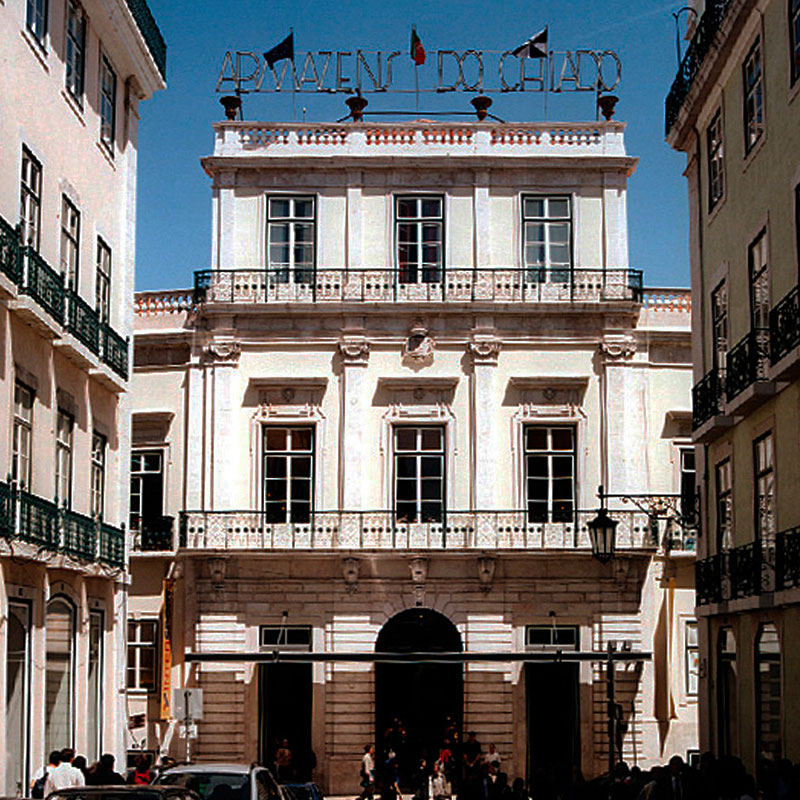 Office
Marquês de Pombal 14,
Camilo Castelo Branco 44,
Barata Salgueiro 37
Modern offices in the finest location of the Portuguese capital
In Marquês de Pombal and its vicinity there are three buildings under renovation as offices. They offer modern and high-quality spaces in the heart of Lisbon.